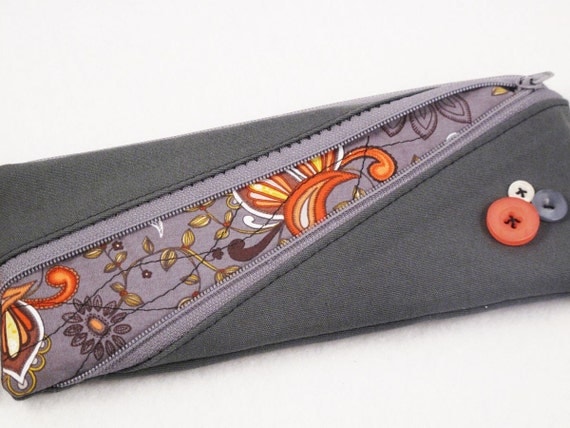 I have been sewing for as long as I can remember. I started in high school and instantly fell in love. I didn't really take up sewing though until I had my children and began sewing for them. One thing led to another and before long I was making handbags. I loved it so much and all my friends wanted one so now I have a shop on Etsy,
Katy D's Handmade
.
So, when I was looking around Etsy for a bag to feature here I wanted to find something unique for my first post. I have to tell you it wasn't easy. There are so many great bags and great bag makers that it was really hard to decide. But I narrowed down my selections and decided on this
Zippered Pouch
by
sewartsy
. I really liked Amy's creative use of the zipper and beautiful fabric peeking through the solid (plainer) fabric. I asked Amy about her little "zipper" bag and what inspired her…
"So I love fabric, obviously, but I'm also enamored with little embellishments and making my bags into artsy creations with buttons and crystals and appliques and the like. When I started playing around with this design it was because I was thinking those little zipper teeth are so adorable - not just functional. I'd seen those great little pouches that look like the teeth of an animal or a monster, and came up with the idea of creating an artistic "unveiling" of a beautiful or interesting print - kind of like drawing back a curtain! The inside is a regular, fully functioning zippered pouch, but the outside will make you smile!"
And it does make me smile Amy. It's almost as if a secret is being revealed. Amy has other great bags in her
shop
too so be sure to check them all out.
Thank you so much for reading my first post here on Carried Away. I hope to post a new featured bag every Tuesday. Please leave a comment and let me know what you think and if you would like to be featured here please contact me and let me know. The link to my shop is above, just send me a convo. You can also find me on
Facebook
and
Twitter
. I would love to talk to you about your bags.